Two weeks of action learning, open source resilient living and ecology, appropriate technology and off grid experimentation in Extremadura, Spain. Learn new skills, share your current ones and help make the world more sane and fair. The camp will be as close to free as possible – see details below.
Dates: Saturday the 4th August to Sunday 19th.
The first week will be more preparation (digging foundations, etc), so if you can only come for a short while it may be best to come during the second week.
Some details of workshops being planned are given below. If you have a workshop you would like to run please get in touch! We are particular keen for for there to be more Spanish language workshops.
Open E Land Camp 2012 Survey Form now available! Please fill this out if you're interested in coming! It will help us plan the event. Please email any questions to openeland@gmail.com.
Workshops
Straw Bale Building: over the course of a week or so we plan to build an approx 5x5m strawbale building which looks a little like this: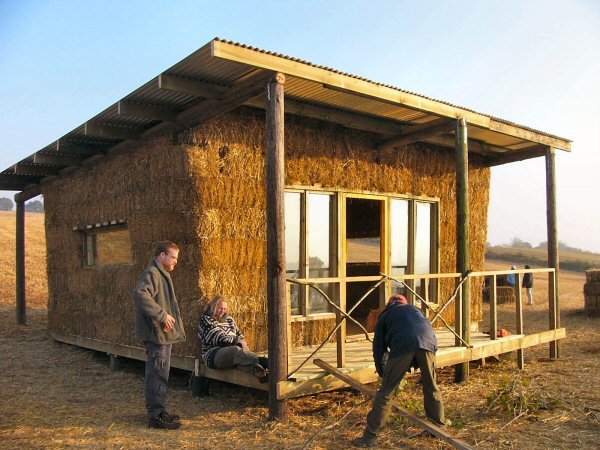 NB: the current total cost for all the materials for this is 2000 euros, so a small contribution towards material costs may be asked of participants in the strawbale workshop.
Arduino workshops: basic open source electronics and Arduino programming – the open source micro-controller at the heart of many new self build projects, from energy meters to solar hot water controller and automated plant watering systems (English/Spanish?).
Off grid power: learn how to setup and maintain 12v solar battery systems for off grid living. Will cover choosing the right kinds of solar panels, charge controllers, batteries and inverters, how to diagnose problems (English).
3D printing workshops: Practical introduction to 3D printing (English/Spanish).
Introduction To Permaculture: An afternoon introduction to permaculture ideas with local Permaculturist (English/Spanish).
Forest Gardening: Overview of forest gardening ideas with practical activities in the the Open E Land forest garden project and films (English).
Growing workshops: Practical workshop covering growing plants from seed and cuttings, grafting, pruning etc (English).
Earthship construction: we are in discussion with a group about  having an earthship construction workshop (TBD).
Compressed Earth Brick Construction: Compressed earth has of course been used for centuries, but small compressed earth bricks are a relatively new material. We hope to have open source resilient living manual CEB press (or possibly even an OSE-style hydraulic one). Exactly what we should build with it is unclear.  Some people say a manual press can make 500 bricks a day (i.e., about one a minute), others 800 to 5000. A typical small house might have a few thousand bricks, so we should aim to make something fairly small. One interesting project would be to build a CEB floor for thermal mass in the strawbale workshop (TBD).
Self build solar thermal collectors: we plan to build one of the build it solar thermal collector designs (TBD).
Roadtrip to visit nearby projects: Sustainable Forest Garden Farm Project and Casalinho.
Open air evening cinema: evening films from the solar powered cinema (think Powaqqatsi, Home, The Power Of Community, etc.)
Swimming: Public, outdoor swimming pool on nearby river.
We've had offers of workshops on yurt building and compost toilets. Other possibilities include: earth oven building, living roofs, Gingerly furnace construction  (or indeed any of the Lindsay Books projects) , tipis and yurts, wooden furniture, aquaponics, growing mushrooms, earthbag construction, preserving food, bicycle generators, small scale irrigation, well digging, reed bed water processing, gassification and biogas. If you think you have skills which would be helpful for running a workshop or are enthusiastic and brave enough to do some research and try it out with some volunteers then please get in touch!
Details
The camp is free to attend but you must register first so we can plan accordingly. There will be some small running costs, including a few euros a day to run the kitchen and petrol money for any trips. Some of the workshops may ask for a donation to help cover material costs. Once we have a budget and rough idea of people we may do a small donation fundraiser to cover some infrastructure costs.
Aside from a tent, clothes, hat, sunscreen and sleeping bag you'll need to being a few basic utensils (plate, bowl, cutlery), a water bottle and toilet paper.  If you're planning on getting involved in construction bring safety footware. Other useful things to bring are a torch, swimming clothes, a towel, outdoor lights, camping chairs, grid equipment (solar panels, batteries, bicycle generators, etc), gardening or digging tools (gloves, spades, watering cans, secateurs, pick axes etc), construction tools (rechargeable drills, powertools less than 1000W, etc) and musical instruments.
In the interests of sharing the knowledge and experience gained we will be attempting to record as much as possible so please bring video cameras and tripods if you are able.
There will be a communal camp kitchen which will operate on a rota system and produce mostly vegetarian food (vegans and carnivores also catered for). We will probably organise a BBQ some evenings as well. For an idea of how it could work see DorkCamp. You can also bring your own food and cooking equipment. There is a restaurant not far from the site and places to eat in Hernán-Pérez and Santibañez el Alto. Drinking water comes from a spring near the site.
We hope to have a warm shower operating my the time the camp starts, but water is scarce in the summer. You can also swim in the river near the site.  All cleaning products need to be 100% biodegradable as they end up in the river (Ecover is good).
For transport see Site Info for more information, but basically the best way by public transport is to catch the 09.52am train from Madrid to Caceres (2 h. 50 min, scheduled to arrive 12:42) and then the 13:00, 13:40, 14:00 or 15:15 bus to Montehermoso. From there we can arrange lifts. The reverse is similar.
There is currently no wired internet on site. There is 3G coverage with Movistar, Vodaphone and Orange all visible. Only Yoigo has been tested and it worked, but was not fast.
There is a small generator on site and there will be some solar power available as well for recharging small electrical items, but you should plan to be as self sufficient as possible.
Other Events